Construction of the seawater desalination plant and water supply to Mina Spence
20 November 2017
Last October, the Cobra Group, through its Tedagua subsidiary, signed the contract for the seawater desalination plant water supplied to La Mina Spence, Chile, as part of the general SPENCE GROWTH OPTION (SGO) project between the Chilean companies MINERA SPENCE S.A. (part of the Australian multinational BHP Billiton) and the investment consortium CAITAN, SpA., comprised of the multinationals TÉCNICAS DE DESALINIZACIÓN DE AGUAS, S.A. (TEDAGUA)  and the Japanese MITSUI & CO., LTD.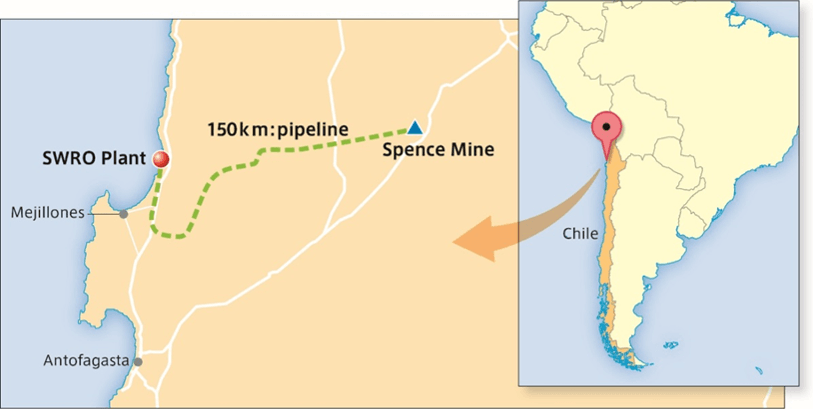 The project is located on land near the town of Mejillones, in the region of Antofagasta (known as Chile's Pearl of the North), and will take place in 2 stages. The first stage, which will last 30 months, will involve the EPC stage (Engineering, Procurement and Construction), followed by the Operation and Maintenance (O&M) phase, which will last 20 years, extendable by another 5 + 5 years.
The project consists of the design, construction and commissioning of: Seawater collection maritime works, as well as the intake and outlet pipes; a seawater desalination plant, with a production capacity of 86,400 m3 a day with reverse osmosis (RO) processes; a 66 KV, 75 km long aerial line; and a 154 km long pipeline made of 36" (900mm) diameter steel pipe with three pumping stations, which will pump the desalinated water to the Mine Spence facilities, after overcoming an elevation of more than 2,000m.