The Tedagua stand chosen as' the most exclusive design` in the INDOWATER exhibition 2017
14 de Julio de 2017
Tedagua was a key participant in INDOWATER 2017, the main Indonesian exhibition for water, wastewater and recycling management that takes place at the Jakarta Convention Center from July 12 to 14. INDOWATER brings together more than 10,000 industry professionals and experts, as well as more than 500 exhibitors from 30 countries.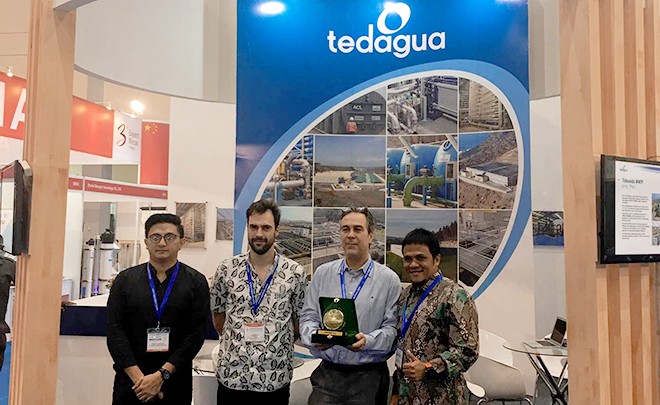 Indonesia seeks to strengthen and develop its water treatment capacity and is becoming a very important market for international companies in the sector. INDOWATER 2017 was an important showcase for Tedagua to demonstrate strong points in the design, construction, commissioning, operation and maintenance of all types of water treatment plants, wastewater and recycled water treatment plants and auxiliary works.
The stand of Tedagua in the INDOWATER 2017 presented the solutions that the company has made in some of our most important references in Asia, Australia, South America, Europe, the United States and Africa. These references include the Taboada Wastewater Treatment Plant of 1,200 MLD in Peru, Recycled Water Treatment Plants in Australia and our main SWRO desalination plants in Singapore, Algeria and Spain. Proof of the welcome of Tedagua was the award that the organization of INDOWATER 2017 granted to the "Stand with the Most Unique Design" of the entire exhibition.
Tedagua recognizes the importance of Indonesia's water infrastructure needs in the coming years and for this reason the company has recently opened an office in Jakarta to focus on helping develop water infrastructure solutions that meet the needs of Indonesia.